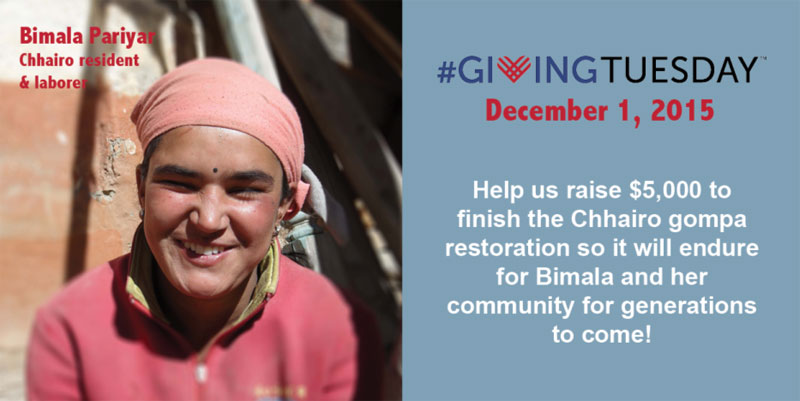 If you've joined us in Chhairo, you may remember meeting Bimala. Perhaps you plastered the gompa walls alongside her or spoke with her about her favorite statue: Guru Rimpoche in the main chapel. Her joy and welcoming spirit has been a delight to all of us through the years, which is why we've chosen her as the inspiration for our #GivingTuesday campaign on December 1st.
On #GivingTuesday, we'll be raising $5,000 to fulfill our commitment and enable completion of the kitchen/visitor block and the gyalpo. This is our first year participating in #GivingTuesday, and we want to make it count. A gift from you on December 1st will mean the Chhairo gompa will stand strong and serve Bimala and her community long after our formal involvement has ended.
Please consider Restoration Works International in your charitable giving on December 1st.
Keep an eye on your email and our Facebook page over the next week. We'll be sharing photos, videos, and stories celebrating our years in Chhairo.
Let's finish what we started and make sure Bimala and all our friends at Chhairo continue to benefit and prosper from the renewal of their important cultural place.
Namaste,
Carl, Donald, Gretchen, Melanie, Peter, & Sue
Restoration Works International Board of Directors