Our Mission
To restore buildings of cultural significance and provide cultural exchange and understanding.
Our Values
We believe that communities prosper through preservation and renewal of their historic sites.

We believe that by bringing people of different cultures together to restore these historic sites, we can help communities in developing countries achieve economic benefits.

We believe that rebuilding, renewing and protecting cultural heritage advances sustainable development, provides opportunities for cross-cultural understanding and helps communities proudly celebrate their unique place in the world.

We believe in the value of work as the universal language that connects an individual's commitment to a group effort, benefiting the larger community.
How We Fulfill Our Mission
We use national and international volunteer tourism as the catalyst for our mission to help communities around the world protect their cultural heritage sites and prosper through preservation and renewal of their history.
When you join a Restoration Works International project, you can be assured that at least 90% of your donation stays in-country, circulating within the local economy. More than 70% of your fee goes directly to the project, paying for costs that include local staff wages, building materials, and supplies and more.
In-Country Tour Costs
20%
Invested in Local Wages, Building Supplies
70%
1998: A Man, A Monk & A Mongolian Temple
A serendipitous series of events involving a man, a monk and a Mongolian temple led to the 1998 founding of Cultural Restoration Tourism Project (CRTP), the precursor to Restoration Works International.
Founder Mark Hintzke had an engineering degree from the University of Wisconsin, a Master of Science degree from the Institute for Environmental Studies (UW-Madison) as well as 20 years of construction experience, several of which involved restoration work. His interests included development issues, environmental ethics and endangered cultures. His master's thesis was a study of Buddhist ethics and how they can be applied to development practices.
At the same time, an elderly monk in Baldan Baraivan, Mongolia, was searching for the means to restore his centuries-old temple, formerly one of the country's most important. Mutual acquaintances brought Mark and the monk together. Mark developed CRTP's model based largely on funding through volunteer tourism.
1999: First Volunteer Tour to Mongolia
CRTP started to run programs in Mongolia restoring the Baldan Baraivan Monastery, an ancient Buddhist temple, in 1999. Over the next seven years CRTP welcomed more than 300 volunteers, who worked alongside the 40-person Mongolian staff.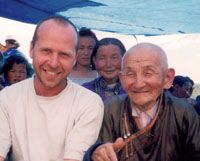 "We made one more stop at the ger of the old lama. As I reached to touch his hands in a farewell gesture he began to cry. His tears fell upon my hands softly, and I sat still for a moment. My interpreter told me that the lama's tears were tears of joy, now that he was confident that he would gaze upon the restored temple one day." – "Journey to Baldan Baraivan" by Mark Hintzke
2005: New Project in Nepal
CRTP staff was invited to travel to Nepal in 2003 to assist on the restoration of the Chhairo Gompa, a Buddhist monastery in the Lower Mustang region. The first volunteer group arrived in 2005. Over more than a decade, hundreds of volunteers spent their holidays working alongside the local crew to restore the gompa to a fully-operational monastery, the community's most important cultural place.
2007: CRTP Becomes Restoration Works International
CRTP began operating under a new name, Restoration Works International, in 2007. The name reflected our belief in the power of working together for cross-cultural exchange and the economic and cultural benefits of preserving and renewing historic structures. At the same time, our founder Mark Hintzke passed the torch on to other directors. He continues to be involved with RWI, participating in tours, speaking engagements, and promotion.
2015: A Decade in Nepal Draws to a Close
After more than ten years in the community of Chhairo, Nepal, RWI took its last tour in fall 2015 and funded the final phase of our commitment: the kitchen/visitor block at the gompa. We anticipate the property will officially be turned over from the Nepali families who had administered it through the generations to the Chhairo community in late 2016 or early 2017.
2016: A new country, a new community!
In 2016, RWI began evaluating potential heritage sites all over the world for our next project. An RWI board member and volunteer took an exploratory trip to India in the fall to evaluate a promising project in Udaipur.
2017: Bichli Haveli Project begins
In July 2017, we took the first tour to our new site in India: the Bichli Haveli Project. Over the next three years, we will restore a 140-year-old stone haveli (townhouse) with our partners the Mahim Singh Mehta family.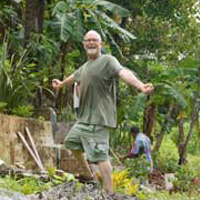 Carl Kopman
Carl Kopman is a retired school teacher living in Berkeley, California. He has been involved with RWI since 2005 when he happened upon the group's restoration project at the Balden Baraivan Monastery in Mongolia. So moved by his experience there, he became an active participant in the restoration work being done at the Chhairo Gompa in Nepal. He spends his time enjoying his grandchildren, gardening, hiking, and renovating an old house on the banks of a wild river in Panama. He is currently working on a collection of his poems and short stories.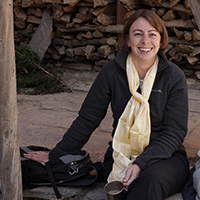 Melanie Lytle
Melanie is a cultural heritage specialist living in Washington, DC, and the executive director of the Maryland Association of Historic District Commissions. She holds an MA in historic preservation from Goucher College, where she is now an adjunct associate professor in the MA in Historic Preservation program. She spent her teenage and early university years in South Africa, later lived in France and California, and often travels overseas. She joined the board after volunteering in 2014 with RWI in Nepal, where she was convinced of the meaningfulness of the organization's work.
Donald Tine
Donald recently retired from his career as a lawyer in the Bay Area, where he specialized in rent control and landlord-tenant law. Growing up overseas, he caught the travel bug early and plans to spend much of his retirement seeing the world. He first became involved with RWI in 2007.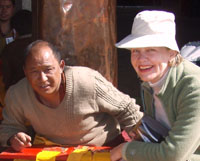 Gretchen Worth
Gretchen is a founder and former CEO of Asia City Media Group, the region's leading city lifestyle media company. She moved to Asia in 1989, opening ACMG offices in Hong Kong, Singapore and Bangkok, and overseeing operations in Shanghai and Kuala Lumpur. Gretchen travels frequently throughout Asia, and loves every minute of it, from biking and trekking in the Himalayas to wining and dining in the region's vibrant cities. Before joining the board, she volunteered on RWI programs in Mongolia and Nepal. She is currently pursuing an MA in Historic Preservation Planning and an MPS in Global Development at Cornell University.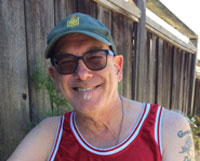 Bob Pizzi
Bob Pizzi is a retired Space Analyst, having worked in the Campus Planning Office at the University of California – San Francisco for over three decades. He originated the Space Management system there, utilizing CAD and geographic information systems, mapping all the space for the University to maximize Federal and State funding. Bob was introduced to RWI in 2006, when he attended a trip to Balden Baraivan, Mongolia. The goal was the restoration of a 17th century Gelugpa (yellow hat) Buddhist Monastery. Impressed with the history and culture of the area, he also was drawn to the way RWI organized the tour and the care shown to attendees. So much so, that he attended two more trips to Nepal in 2010 and 2013, restoring the centuries-old Chhairo monastery along the Annapurna Trail in the Himalayas. Since 2017, he has traveled to Udaipur, India, working on the restoration of the Bichli Haveli project, as well as the Colbrookdale Railroad project in Pennsylvania, in 2018.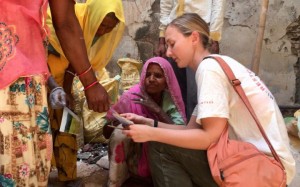 Courtney Hotchkiss
Courtney Hotchkiss is a doctoral student at North Carolina State University researching cultural resources and climate change. She received an MA in World Heritage Studies from BTU Cottbus in Germany, which provided her the background needed to better manage and interpret cultural and natural heritage sites. After graduating she worked for the National Park Service and the Maryland Historical Trust. In April 2019, she participated in the Haveli project in Udaipur, India and felt an immediate connection to the project and RWI's mission.