India – Bichli Haveli Project
Project Overview
The Bichli Haveli Project is restoring and rehabilitating a 140-year-old historic house located in the old city of Udaipur, Rajasthan, and transforming it into a community and heritage resource center. The project aims to bring many benefits to the community in which it is located through job creation (especially for women), support of local suppliers and services, and empowering residents to celebrate their heritage and improve their qualities of life.
Restoration Works volunteers work alongside the crew in hands-on restoration tasks and participate in the community engagement activities.
Objectives
Restore the beauty of a traditional Rajasthani courtyard home and rehabilitate it for use as a community and heritage resource center

Provide stable and safe employment for a crew of primarily women laborers and train them over the life of the project to be a team of skilled restoration specialists who can use these skills to improve their livelihoods and the lives of their families and community

Engage and empower the haveli neighbors, particularly youth and women, to celebrate their traditional and modern cultural practices and improve their quality of living

Provide economic benefit by hiring local staff and supporting local suppliers and services

Demonstrate to the larger Udaipur community, urban development professionals, and conservationists the viability of restoration as a tool of community renewal and improvement, and provide them with the resources at the community and heritage resource center to embark on similar initiatives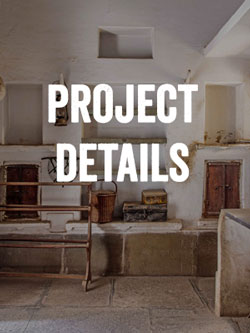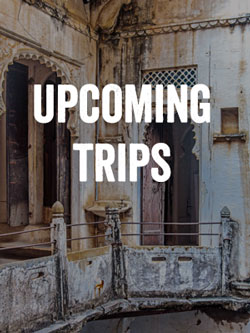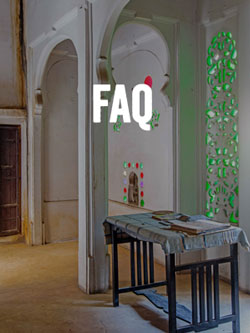 Register to join one of our upcoming trips
Bichli Haveli Project News
Courtney Hotchkiss
During this pandemic, the best way to stay safe is to stay at home. For the Bichli Haveli Project in Udaipur, this means work has been temporarily suspended. The lockdown in India began March 24 and has recently been extended until at least May 18. Our partners and crew are safely at [...]
Melanie Lytle
Restoration Works International invites you to a meetup of RWI alumni, supporters, and friends on March 22nd in Washington, DC. We'll be gathering in the serene Dharma Room of the Center for Mindful Living in Tenleytown (because there's no better place to start a Sunday morning.) Come by between 10 [...]
Restoration Works International
Your generosity has blown us away! We raised over $5,000 of the $7,500 needed to see the Heritage and Community Resource Center come to fruition. Thank you so much! 70% puts us well on the way to raising the rest of what's needed. Please help us get the rest of [...]
Project Details
History of the Site
Built about 140 years ago, the Bichli Haveli is a traditional Rajasthani courtyard-style home, the ancestral house of the Mahim Singh Mehta family, descendants of one of the noble families of the former Mewar state. Situated in the old city of Udaipur in Rajasthan, it is close to all the famous bazaars, palaces, and lakes for which the "White City" is known. The Mehta family still owns the property six generations after it was constructed, but it has sat empty since 1992. With 46 rooms, 3 stories, 2 courtyards, and 8 staircases, it is a large space with enormous potential for serving the larger community. In 2016, Restoration Works International partnered with the Mehtas to restore this magnificent piece of Indian heritage and convert it to a purpose that will be beneficial to the surrounding community. We kicked off the project with the first volunteer tour in July 2017.
Partners
The Bichli Haveli Project offers a great opportunity to help Indian people preserve an important part of their cultural heritage and daily life. Our committed Indian partners are central to the success and sustainability of this project. Our partners include:
Mahim Singh Mehta Family
Recognizing its incredible cultural value, Mahim Singh Mehta has kept the Bichli Haveli in the family when most haveli owners have sold or broken up the grand (but increasingly expensive) residences of their ancestors. He has endeavored for more than a decade to find a way to bring the haveli back to life. His daughter, Malvika Mehta, a trained architect, serves as the Project Architect and has devoted years to documenting the property and planning its adaptive use.

JanDaksha Trust
One of the Bichli Haveli Project goals – and an RWI foundational value – is job creation. We're delighted to be partnering with local Udaipur NGO (nonprofit), JanDaksha Trust, who is supporting the project's crew of primarily women laborers who are being trained in restoration over the project's three years. JanDaksha's work focuses on the vulnerable migrant worker population and women's empowerment. In addition to arranging dignified employment, JanDaksha supports the crew with official work documents, healthcare and legal assistance, family support, financial literacy training, and much more.

Studio VanRO
Studio VanRO is an interdisciplinary firm focused on architecture, art, and urbanism. Co-founder Vandini Mehta is leading the project's Urban Art and Cultural Heritage Initiative which seeks to engage the neighborhood and community around the Bichli Haveli. The initiative includes the creation of a Youth Squad, and conducting documentation, focus groups and art workshops in the neighborhood along the Bapna Ki Sehri street, which will culminate in a local street festival. The initiative seeks to use civic engagement to reconnect the residents with their neighborhood and also bring the attention of the city authorities towards community-centered development goals.

Role of Volunteers

Restoration Works volunteers are a vital component of the project. They work alongside the crew in hands-on restoration tasks and participate in the community engagement activities.

Tour fees fund the project
Volunteer trip fees provide the funds by which we are able to purchase building materials, pay the wages of the on-site crew (most of whom come from within the community) and provide volunteer lodging, food and activities. For this project, almost 100% of the trip fee remains in-country, with 85% going directly to the project. For US residents, trip fees are considered a charitable deduction along with some associated travel costs (consult with your tax advisor).

Extra hands and open hearts
We believe in the value of work as the universal language that connects an individual's commitment to a group effort, benefiting the larger community. Anyone can join a Restoration Works International trip. No previous construction or building experience is required – just a desire to make a difference in the lives of the local community. The tasks volunteers participate in vary depending on the work progress and their own skills and interests. Volunteers will always find a variety of jobs available, such as working alongside the local crew of women laborers and craftspeople to complete hands-on construction work, contributing toward community engagement initiatives (documentation through photography and video, workshops, traditional art programs, etc.) and completing artifact conservation tasks. We believe that by bringing people of different cultures together to restore these historic sites, we provide opportunities for cross-cultural understanding and help communities proudly celebrate their unique place in the world.
The Haveli in Photos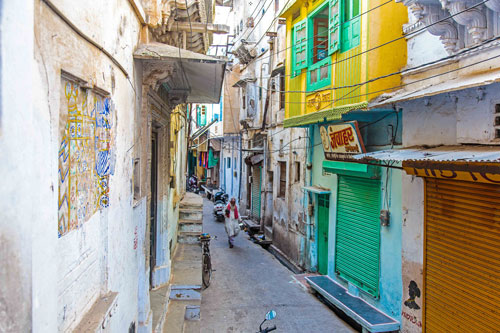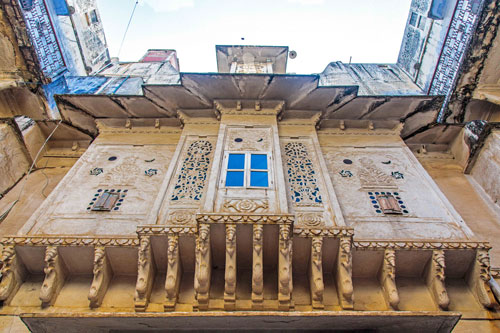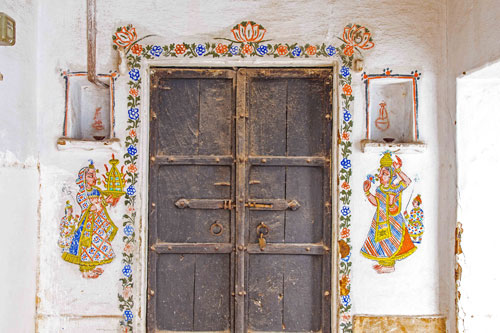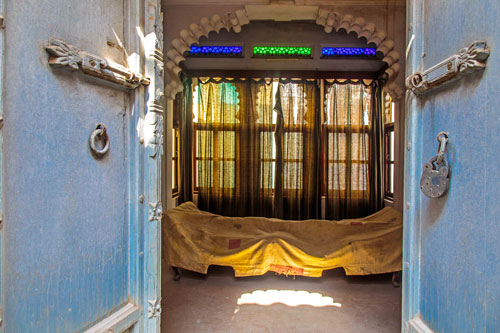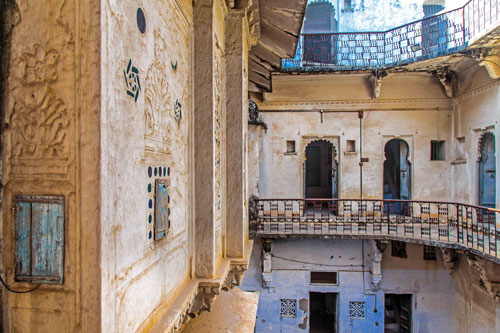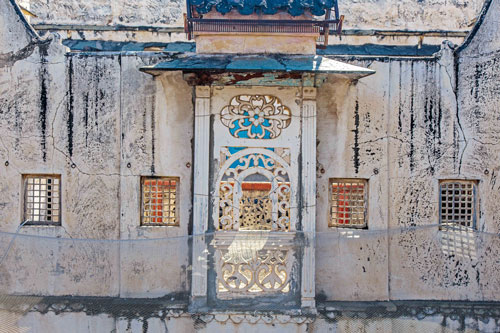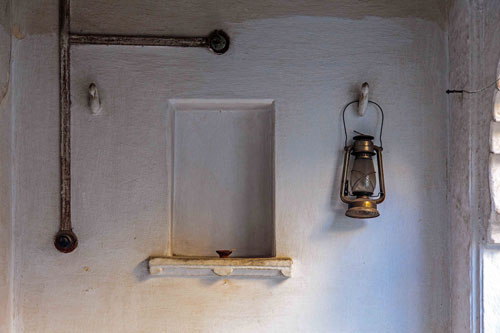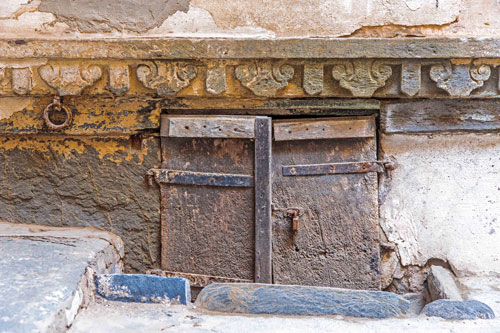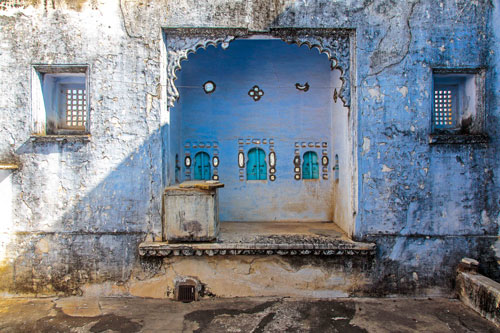 Photography by Ravi Dhingra