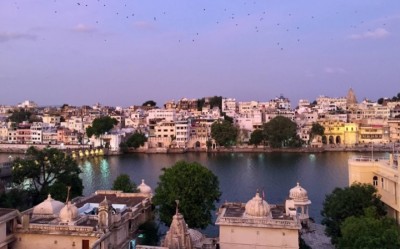 Udaipur in December is about as close to perfection as you can get. The weather is comfortable for working and sightseeing, the seasonal foods are delicious, the lakes are at their loveliest, and the views from the rooftops are crisp and clear. RWI's trip to the Bichli Haveli Project, December 5-17, is your last chance to experience this special time of year; our involvement with the project is scheduled to end in mid-2020. (You can register here for a short, informative webinar about the volunteer experience.)
December's trip features a range of interesting projects, whether you like to work alone or alongside our friendly crew. You'll have the chance to help refinish some of the haveli's 102 wooden doors – they come in all shapes, sizes and finishes, and they are a marvel to behold. You can also try your hand at the lime wash finishes, part of a pioneering study that Malvika, our project architect, is participating in in hopes of recreating lime recipes and techniques used in the original construction 140 years ago. Deta Ram, our master stone craftsman, will be happy to teach you the art of carving floral designs in plinths, ledges and basins that will fill the haveli.
You'll be in good hands with our Group Leader, Bob, board member and long-time RWI volunteer. This will be Bob's third visit to the project, so he's a pro at helping you settle in and ensuring you make the most of your experience, whether you're traveling solo or coming with friends or family. Your days will be full, from the rooftop breakfast with other volunteers, to morning tea with the crew, to hostess Jayshree's spectacular lunches on the Bichli Haveli balcony. The afternoon might include a boat ride on the lake, a palace tour or some souvenir shopping. Dinner together at one of the city's many rooftop restaurants is always a highlight.