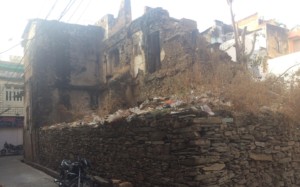 Join Canadian theatre artist & former Waste Warriors NGO Education Manager, Ankita Kumar-Ratta, for a four-day theatre workshop series on how we can use the arts to promote social change at the community level!
We will explore issues of sanitation, pollution & keeping public spaces clean through fun, interactive and hands on theatre activities.
DETAILS:
14-17 April (Sat-Tue), 4-6 PM IST daily
Bichli Haveli
18, Bapna Ki Saheri
Maldas Street
Udaipur
All are welcome to join – no registration required
Maximum 15 participants
Each day will build on the previous day but participants are not required to attend each session
The workshop is sponsored by the Bichli Haveli Project, a partnership of the Mehta Family and Restoration Works International, a US-based nonprofit. The Bichli Haveli Project is restoring and rehabilitating a 140-year-old historic house located in the old city of Udaipur and transforming it into a community and heritage resource center. The project aims to bring many benefits to the community in which it is located through job creation, support of local suppliers and services, and empowering residents to celebrate their heritage and improve their quality of life.